The latest update to UX Write, version 1.1.6, has just gone live on the app store. This introduces integration with the native Box app for the iPad, which provides an alternative to UX Write's own built-in file management and syncing capabilities.
One of the biggest problems with the iPad for content creation tasks is the lack of built-in file management capabilities. Despite these being present on every major desktop operating system for the past 30 years and a critical component of almost all professional workflows, the iPad itself does a very poor job of catering to these needs. Thus, it is left up to third-party developers to implement their own file management and syncing solutions, which is a huge time sink that takes away time from working on core app features. Thus I'm always happy to see apps & SDKs which make this process easier.
Box is an online storage service (similar to Dropbox and Google Drive) and has client apps for the iPad, iPhone, Android, Mac, and Windows. A critical and unique feature of the native iPad app is it contains facilities that allow both opening and saving of files with other apps. While the iPad has a built-in "Open in" feature (supported in many apps) which let you send a document one way, there's usually no way to get it back. Box provides an SDK that individual app developers can use to provide the ability for you to save a document back to Box once you've modified it. This is a critical piece of the puzzle that is missing from other solutions that I'm aware of.
Using Box with UX Write
Once you have an account with Box (which you can register for free) and install the Box app, here's what you'll see: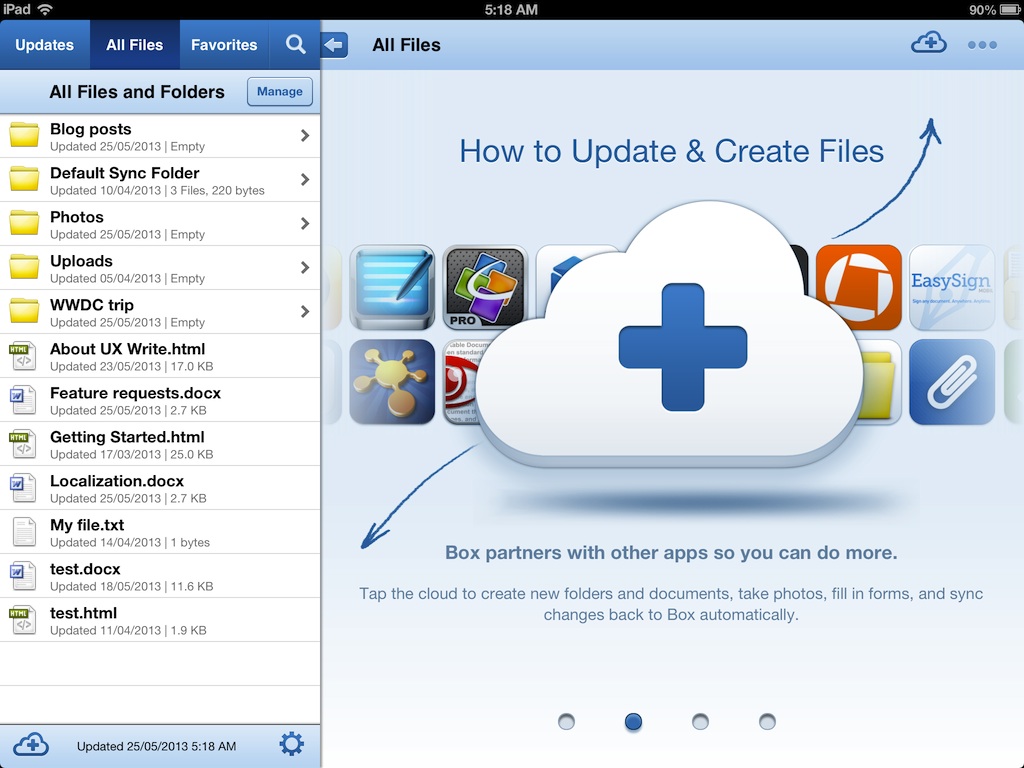 To create a new document, click on the cloud '+' button in either the top-right or bottom-left corner of the screen. Then select the app (UX Write), and the file type (e.g. DOCX):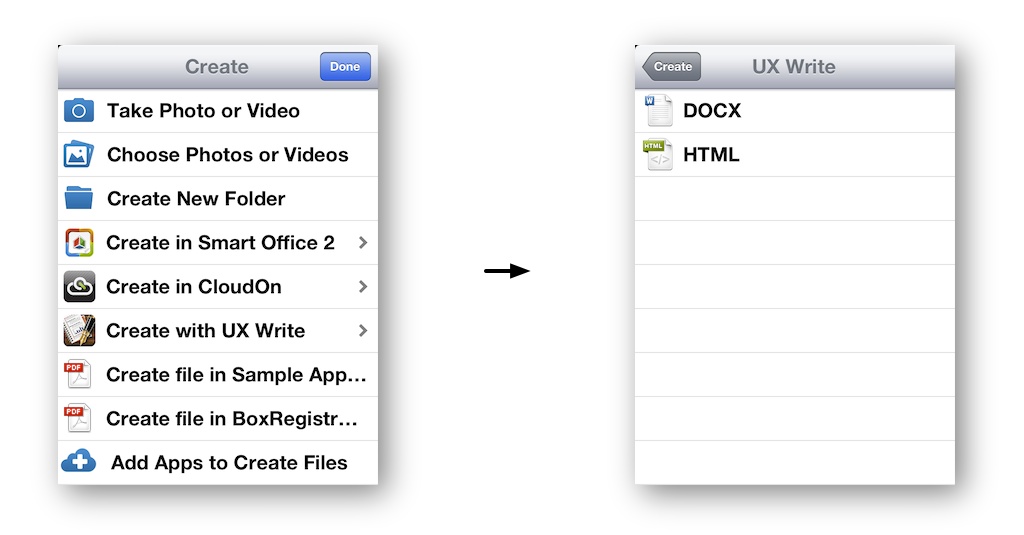 This will bring up UX Write, and you can start adding text to your document. When you're done, tap on "Close" and then "Save to Box":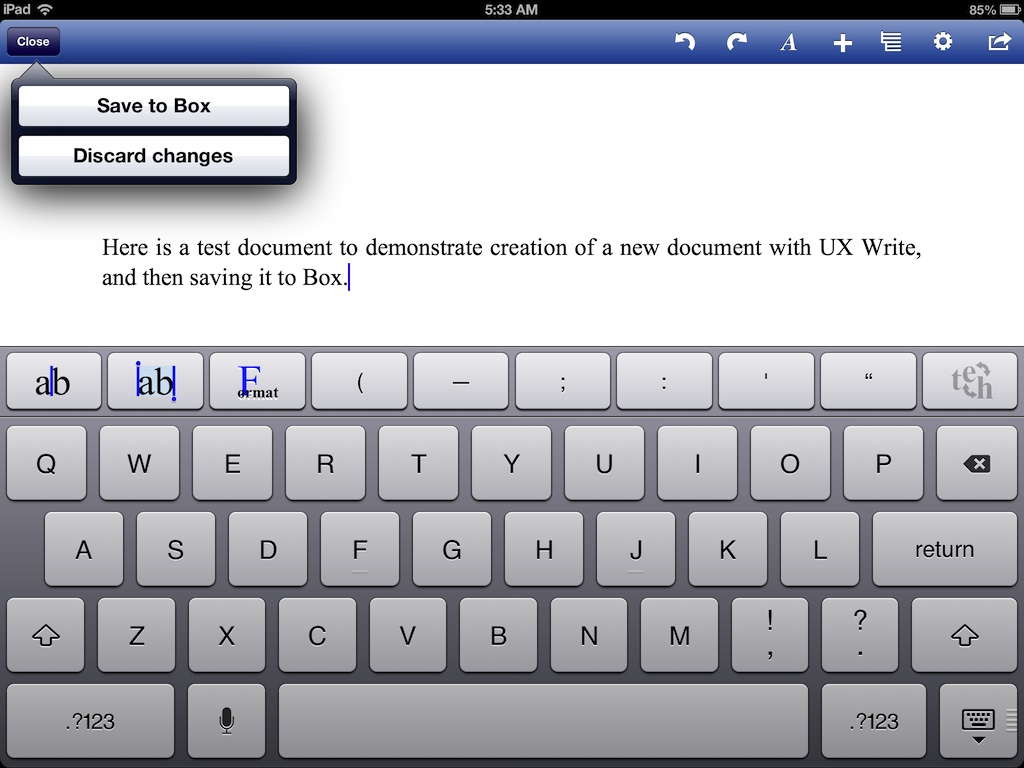 This will switch to the Box app, which will prompt you to type in a name for the document. When you're done, press upload.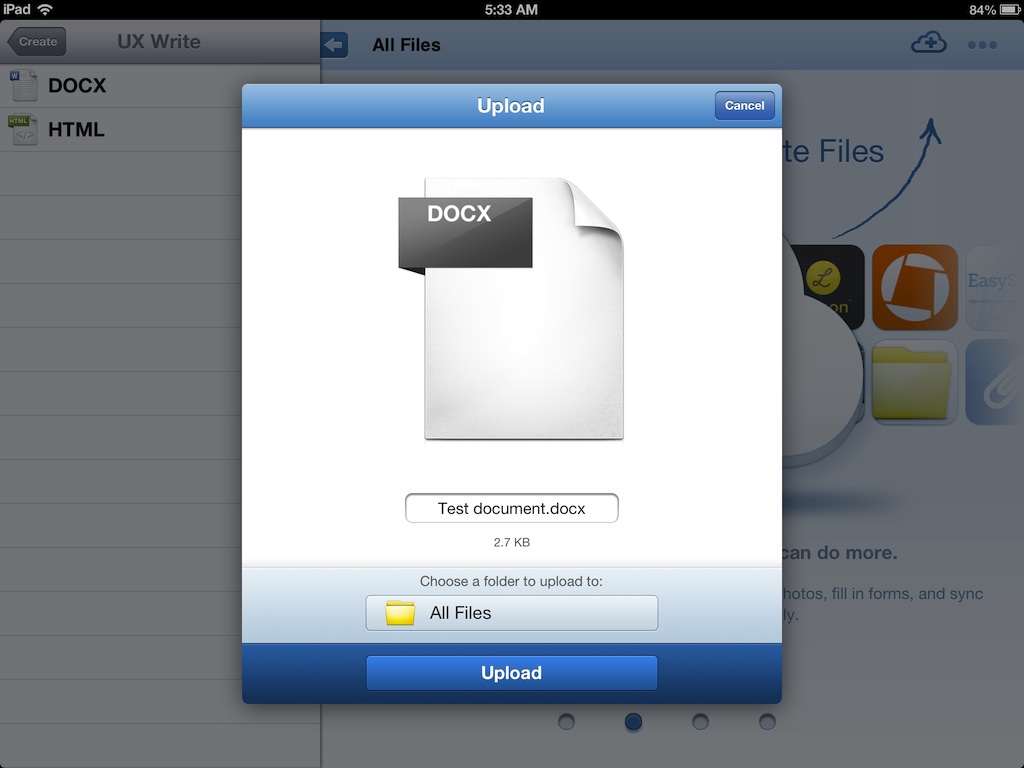 And that's it! You can now have your document synced with other devices and computers that you've installed the Box client on. You can also view and edit the document in any other Box-compatible apps you have installed: